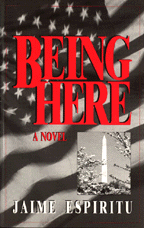 BEING HERE
A Novel
Nicholas, at twelve years old, came to the U.S with his family. He learned what was fact and fable about America, and then some.
A black man, a well-educated fellow engineer, tells him: "I do not believe in integration, because it is unnatural, and wrong."
At a park bench, he tells a homeless man who was once a member of the middle- class and who, through circumstances, became an acquaintance: "You were born and raised here. Many people throughout the world could only wish that had happened to them. What happened to you?"
"Everybody has a different story," the bum tells him. "You have an America to go to. I don't. I'm already here!"
A natural-born American of Japanese descent confessed to him: "I'm going back to Japan. I am not accepted in the American society as it is now. I do not belong here. I must therefore go to where I belong."
After twenty years, these, along with a stunning discovery about his family's coming to America posed a daunting challenge to what Nicholas has affirmed in himself about what America stands for, and to the questions 'What is an American? Who is an American? and What makes an American?'
~~~~~~
Here is a book about us all in America, a book that every American and would-be American must read, if for nothing more than a chance to respond, let alone find an answer to those questions in the quiet of one's thoughts.